Thought I'd share some photos and videos from the Celebrating 30 Years of (official) Steampunk event from last week.  We discussed the definition of steampunk, chatted about costumes, events and music..
We talked recycling and upcycling and opshopping…

I showed off another sonic screwdriver…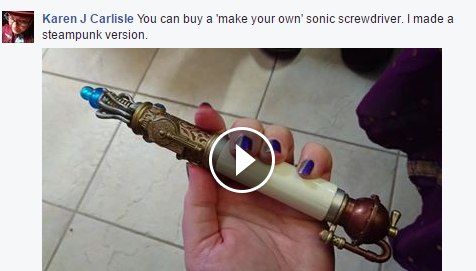 and we did some did some surveys:
Had some live videos…
I did a talk On Steampunk – what I love, costuming, writing and history… and what if?
and Lynne's did a talk on Australian Steampunk Writers (and cosplay and writing).
I'll be posting two more videos from the day on my youTube channel. Thanks to everyone who participated. Thanks for sharing your stories and photos.
Here's a list of the steampunk forum/webpages compiled on the day:
Steampunk Dominion (refugees from Steampunk Empire)
http://thesteampunkdominion.ning.com / https://www.facebook.com/groups/1276453745780039
Steampunk Writers and Artists Guild.(SWG) http://steampunkwriters.ning.com/
Steampunk Writer's Library
https://www.facebook.com/groups/SteampunkWritersLibrary/
Steampunk South Australia https://www.facebook.com/groups/386014630031/
Reddit Steampunk https://www.reddit.com/r/steampunk/
Brass Goggles http://brassgoggles.co.uk/
Steampunk Sunday Queensland Australia https://www.facebook.com/SteampunkSunday/
Steampunk Tendencies https://www.facebook.com/SteampunkTendencies
Queensland – steampunk events Steampunk Affaires https://www.facebook.com/groups/1673295336234933/
The Talk of Punk Fiction: https://www.writing.com/…/2117337-The-Talk-of-Punk-Fiction
Rail Baron https://therailbaron.wordpress.com/
Ged Maybury: https://steamedup.wordpress.com/
Steampunk Scholar: http://steampunkscholar.blogspot.com.au/
Travelers steampunk blog http://daily-steampunk.com/steampunk-blog/
Airship Ambassador http://www.airshipambassador.com/
Beyond Victoriana https://beyondvictoriana.com/
Steampunk India: http://www.steampunkindia.com/
French Steampunk https://www.facebook.com/frenchsteampunk
German Steampunk site: http://clockworker.de/cw/page/2/
Steampunk Canada: http://www.steampunkcanada.ca/
Steampunk Worlds Fair http://steampunkworldsfair.com/blogs/
If you have a favourite steampunk forum or webpage, please let us know in the comments.