It's August, and time for the annual Australian Costumers' Guild Costume Ball.  on the weekend.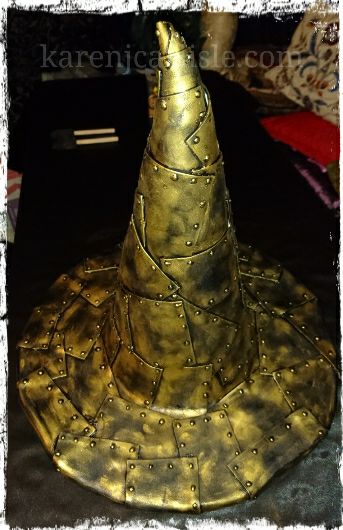 This year's costume had a convoluted evolution. I wanted to try my hand at making a foam 'metal plated' top for some time now; when I was invited to do a talk on steampunk at the recent Terry Pratchett convention, I decided to feed on that desire and twist it. Hence my steampunk witches hat was made. I love this hat. And so do others, it seems. I received dozens of positive comments and even had offers to purchase it.
The Ball weekend was looming and I didn't have an abundance of sewing time (I'm in the middle of a writing marathon). I decided to make use of my new hat – and the idea for a steampunk Wicked Witch of the West from The Wizard of Oz.
I had an idea: I'd steampunk up a vacuum cleaner in place of a broom. I scoured opshops – but there's never an item when you really want it. Would Ms West make it to the ball?
Finally, only a few weeks before the ball, a friend (thank you Veronica) found a steam cleaner (it was meant to be!)
It was pulled apart and gutted, then sanded and spray painted (we just had enough of the gold left. phew). I used rub and buff to add some wear and tear, glued on some bits and piping and added a compass (to face West of course). A 'tesla tube' light was made using a cheap plastic test tube, LED and wires.
MINI-COSTUME PICTURE DIARY:
And how could I go without a flying monkey? I made some mini goggles, a matching metal-plated fezz and steampunk wings.
And meet Hamish: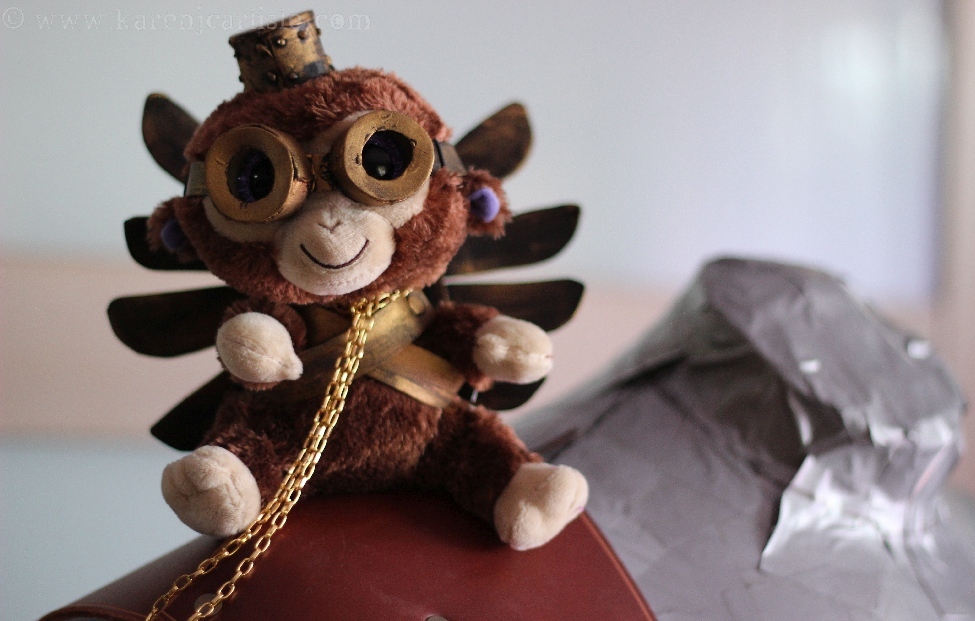 With all the accessories finished, I decided on an all black outfit to highlight them. I wore a black top, skirt (made for previous costume) and new under bust corset – and some green and black striped socks to add a hint of green in lieu of green makeup.  Vintage motorcycle gloves doubled as flying gloves.
And here is my final outfit: my steampunk Wicked Witch of the West (and found out the day before was the 78th anniversary of the movie – woah! Perfect timing.)
Thanks to Steamkittens this photo from the Ball.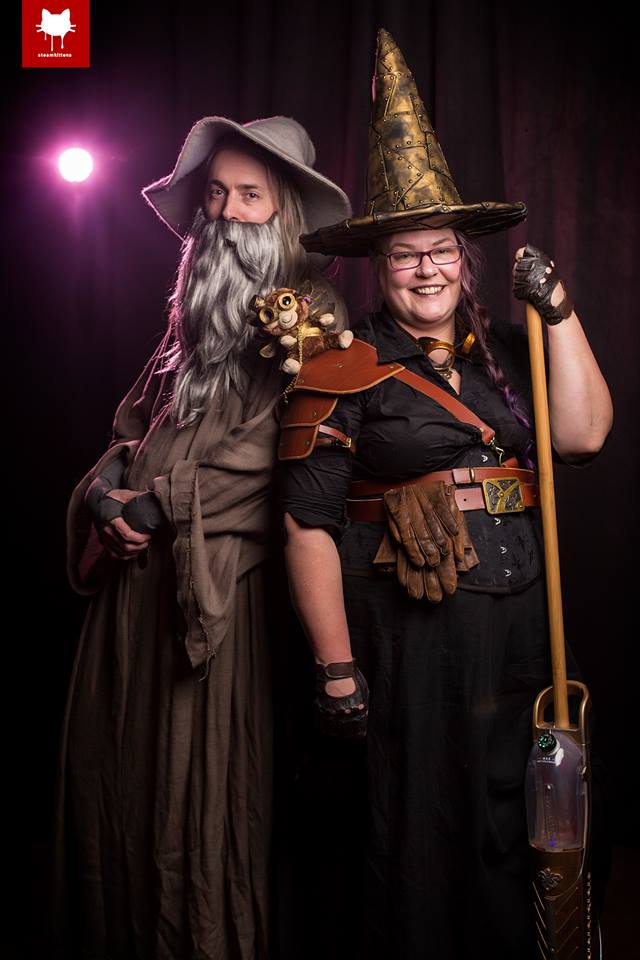 Photos ©2017 Karen Carlisle. All rights reserved.
Portrait ©2017 Steamkittens.