Science,  art, corsets, music and books – find these and more  at the annual Steampunk Festival in South Australia.
I'm fortunate to live in Adelaide, South Australia – home to one of the largest active steampunk communities in Australia.
<Waves at Brisbane>
As enthusiasm for steampunk in Australia is growing over the years, other local groups have emerged. More and more events are joining the 'must see' list. (Next week's Steampunk Road Trip will list the Australian steampunk events.)
This is exciting, as  Australia has a smaller population than other steampunk havens, such as the UK, Europe and the US; I often ogle in awe at the size and breath of their events.  But our local event is going strong and growing every year.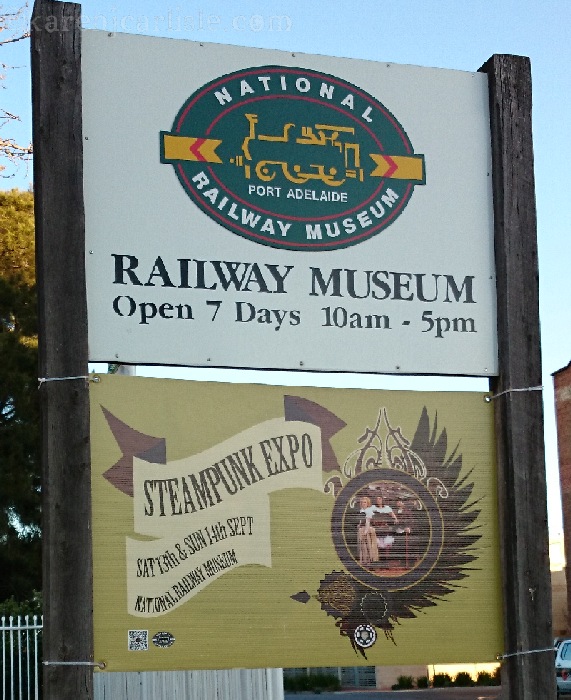 The first South Australian Steampunk Festival was held in Port Adelaide in May, 2013. Later it was moved to mid September . This year's dates: 15-16 September.
Steampunk Festival is held at the National Railways Museum .  So, if you love trains (as many of us do), here's your chance to see refurbished historic trains and ride on the Peronne (steam train) or the Red Hens (diesel trains) during special events. The Museum has displays including Women in Rail display. It is housed on the former Port Dock Railway Station and Yards, with a heritage-listed platform and goods shed.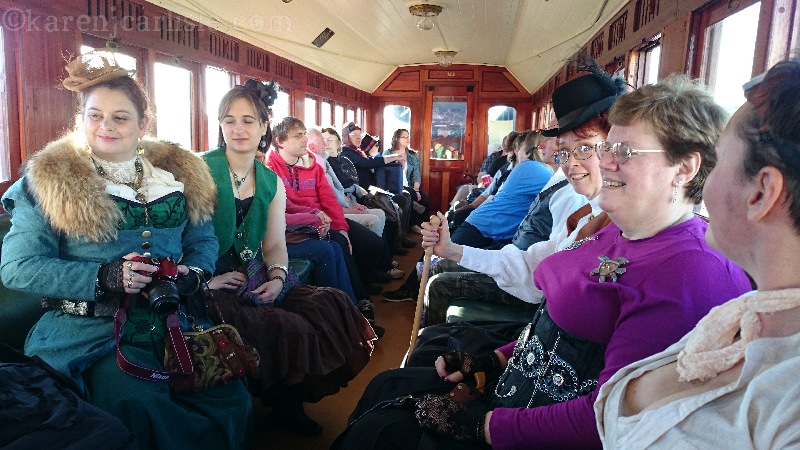 It provides an awesome atmosphere and is the perfect backdrop for photographs.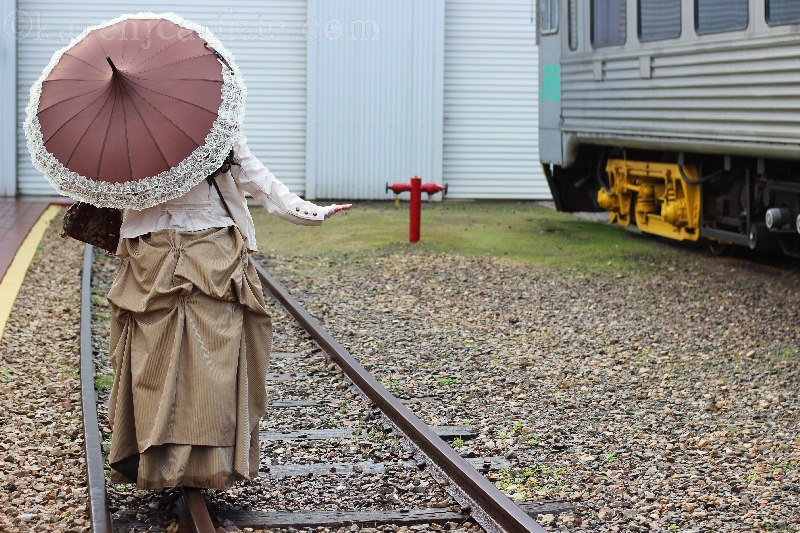 In the Past
Past events have brought us:
Authors, artists, musicians, costume, chainmail, trains, dancing, an animatronic sideshow and photo opportunities.
Each year I create a short video to record the event. I've only missed one steampunk Festival (due to personal crisis in 2014 – so no video for that year). Enjoy!
2013
2015
2016
2017
I am forever grateful for staff of National Railways Museum and  Steampunk Festival for their ongoing support of Adelaide authors of the steampunk genre, as there are few opportunities for local authors and artists to present their works to a large Adelaide audience.  Steampunk Festival has hosted the book launches for my  three Victorian steampunk mystery books in  'The Adventures of Viola Stewart' series.
Looking to the Future
This year will be an even stronger literary component.  I've been asked to return again this year – and will be launching first book of new series 'The Department of Curiosities'.
The following local authors and local comic book authors have been confirmed:
2018's  event will be bigger and better, with Steampunk Festival introducing new items and 'events'.
So far the following have been confirmed:
Interactive:
Virtual Reality – Experience being in the Captain's chair on an Airship,  created by Shane Bevin.
The Game Carriage: Come and try Steampunk tabletop, boardgames and card games. Hosted by the Pop Club
Tea pot racing. Get your team ready!
Maths hunt (ages 4-14).  There's a mini pocket watch as a prize for the first 100 each day.
Interactive Science demonstrations and Maker demonstrations.
Competitions:
Beard Competition, to be run by The Spot Barber, with prizes for the best coiffed beard.
Art Competition and exhibition to be held at The Port Emporium. Free entry both for artists entering and admission. Hosted by Lampin Ink. Open to all ages.
Steampunk Costume Competition. 
Entertainment:
Performances by local primary and high schools.
Artist's Alley, Market Stalls and Food Vendors.
Cosplay photographers.
Music at the Night Venue Mixed Creative on Nile Street.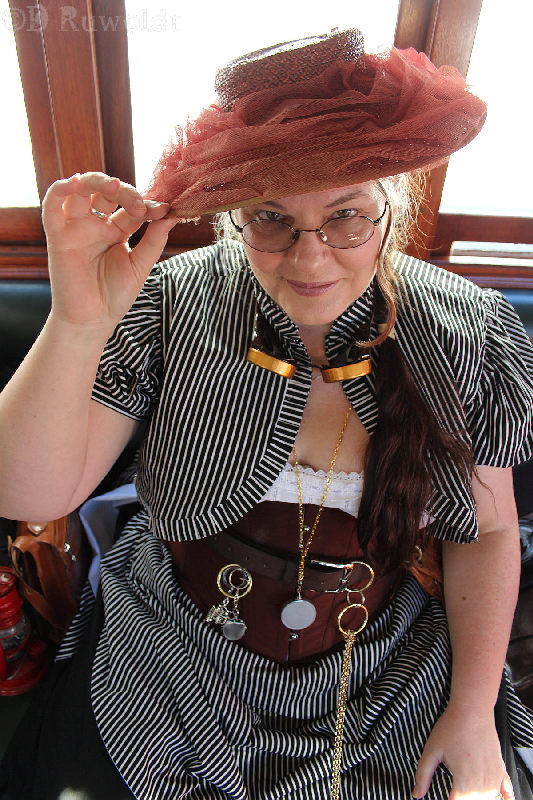 There are a few more items yet to be confirmed – so watch this space!
If you are visiting Adelaide or planning on visiting Australia, why not stop by the Steampunk Festival in September, check out the trains, meet the local steampunk, have some fun and say hi. I'd love to meet you.
Photos: 2013-2017
©Karen Carlisle, ©David Ruwoldt, ©Stephen Muller.
Video © 2013-2018 Karen Carlisle
Steampunk Hands Around the World #2
For the past few years our local steampunk community has been involved in the Time Travellers Picnic. This event is traditionally held on the 8th of December.  We usually schedule the event on the closest weekend (if it's during the week) – but as we are time travellers, any day can be the 8th.  And you can join in- anywhere in the world.
Come back with me in time… to 8th December,
2017:
2016:
 2015:
and finally, 2014:
How to Picnic in steampunk Time Traveler style:
What you will need:
A spiffy outfit. All time travelers need protection from the elements. Steampunk is the perfect combination of whimsical and practical.
A sense of fun. Take time from the everyday.  Slow down. Enjoy the company. Who knows what, or who, you will meet?
Good food (especially chocolate cakes!)
And tea.  What better way to enjoy your tea but with…
tea cups!

A picnic rug to keep your outfit pristine.
Protection from the sun and errant time winds. A top hat or parasol is recommended.
A map. Ensure your cartographer has marked the map accurately, accounting for local time shifts.
and, most importantly, good company.
"If time travel is possible, where are the tourists from the future?" 
– Stephen Hawking, A Brief History of Time
We're having a picnic! Come join us.
Videos/Photography ©Karen Carlisle