Several things have tugged on my mind this week- anniversaries of the passing of friends and people I admired, finding old scraps of writing and a birthday looming. So I started to look back this week, and ponder things that were.
My first blog post on this webpage was on 1st July, 2013. I'd done costume blogs and re-enactment blogs before but this time I planned to share by writing, other passions, and share my journey as a writer. My purview was (and is still) encapsulated in my tagline:
Imagineer. Writer. Artist. Gardener. Chocoholic and tea lover
Way back then, I would regularly share updates on my various passions  (
starting in November, 2013
):
Art/

Photography

: pictures I've taken or drawn.

Costume: things I'd made or planned to make (though I don't get as much time to make any significant dent in my costume wishlist these days.
Writing/Reading: This is a main focus of my blog these days. Since having to quit my job in 2014, I now write full time. I've posted updates on current works in progress, about my forays into NaNoWriMo, flash fiction, research articles and the occasional poem.
Other little Green Men: - This quote was from the final episode of one of a favourite TV series, Star Cops (UK): Little Green Men and Other Martians. Here I listed things like D&D games, gardening adventures and updates, and insights into my personal battle with anxiety (which resulted in quitting my previous job).
Today I thought I'd revisit that format: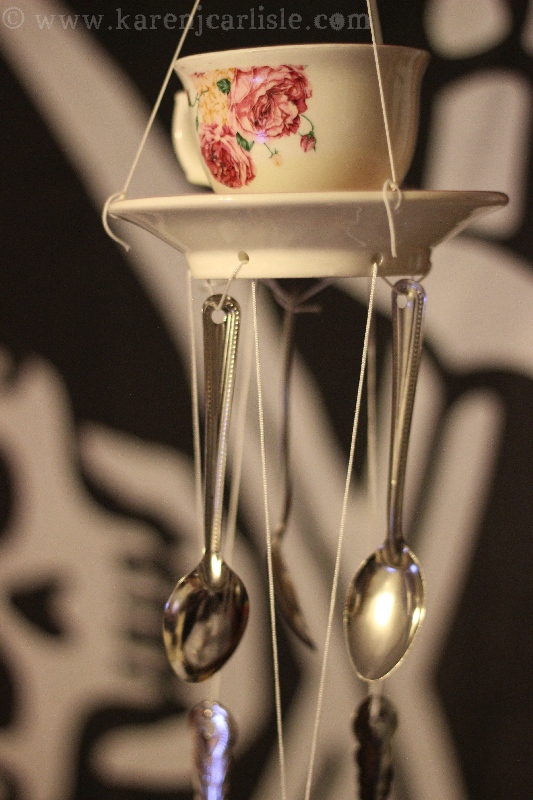 Art/Photography: For the past few years I've been sharing daily pictures of my growing collection of tea cup (and mugs) and teapots during September. These are posted on Twitter and Facebook at either 10.00am or 6.00 pm (Adelaide time). You can see them in my twitter feed (to the right of this blog post). Here's today photo:
Costume: I've just finished up my steampunk Wicked Witch of the West (here's the post if you missed it last week). I've been going over my unfinished costume projects. There are a few. I really need to finish some of them - like Queen Victoria (from Pirates Misfits) or Missy's purple outfit (from Doctor Who). Maybe for Supanova in November?
Writing/Reading: I have a massive pile of books to read. It keeps getting larger. I've promised myself: I will start reading them after The Illusioneer & Other Tales is published (late this month, early October). In the meantime, I write. And write. And rewrite.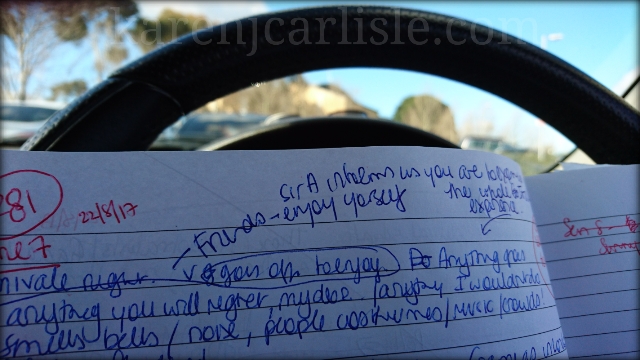 Other little Green Men: My garden is getting some attention finally (after recovering from major surgery, extreme summer heat and three months of recurring bronchitis) I have started the long road back to a weed-free (is there ever?) edible garden.  I'm spending ten to fifteen minutes weeding each day and enjoying the winter flowering. The fresh air, sun and endorphins are also good at keeping the black dog at bay.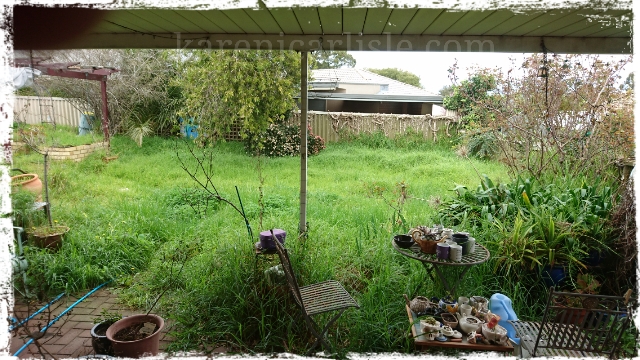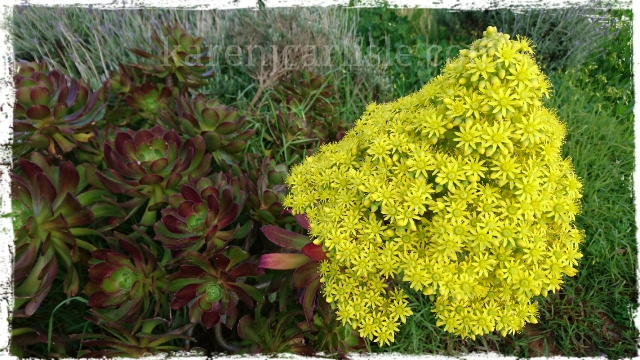 Photos ©2017 Karen Carlisle. All rights reserved.
Last week I partook of 'feel good' Tryptophan and Phenylethylalanine via (way too much - is there such a thing?) dark chocolate. This week I've added Endorphins* to my arsenal to dispel the gloomy funk set in after weeks of anxiety. And what better way to get exercise than pottering in my garden in an effort to catch up on several months of garden neglect? Here's to sunshine, fresh air and endorphins.
Front yard:
First, I pulled out a few of the self-seeded lavender to liberate a couple of rose bushes near the path from being smothered - and discovered some asparagus was still alive behind them. The path needed some serious clearing. The lavender hedge (and more errant self-seeded lavenders) had grown across the side path and needed trimming back...
... as did the path for the postie, near the verge (below). There is oh so much weeding, to remove errant grass clumps in the vege garden and stone paths (I decided to leave the parsley for now and pull them out as we need them).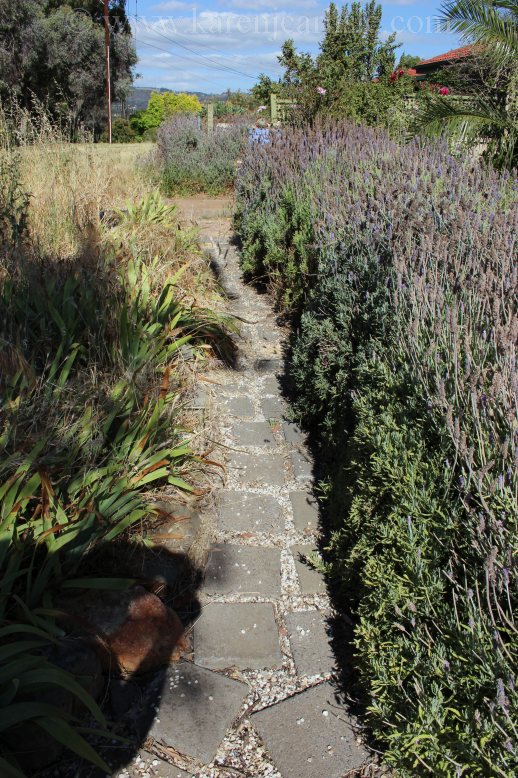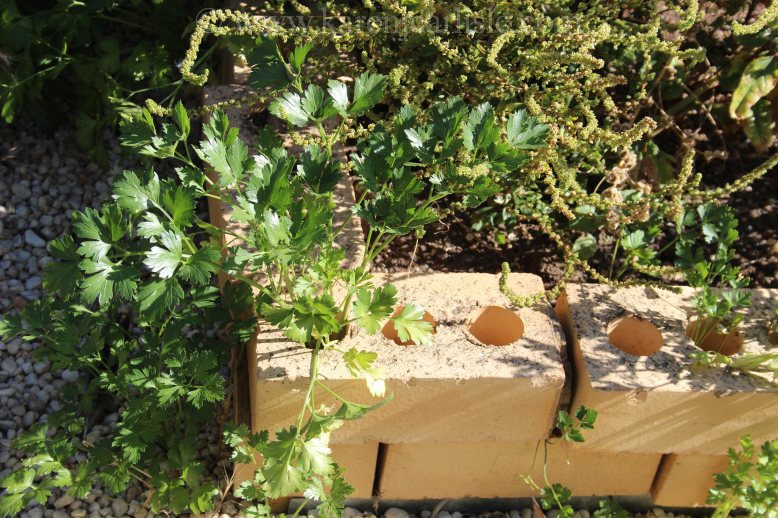 The path from the verge to the house is now swept and the irises trimmed.
I also pulled the multiplied succulents from the garden beds. The cuttings and removed plants waiting to be re-homed (I'm giving them away).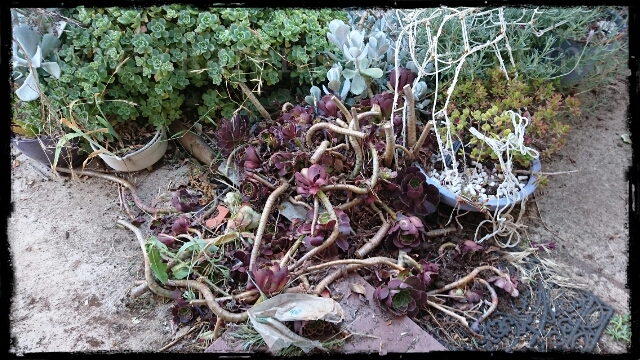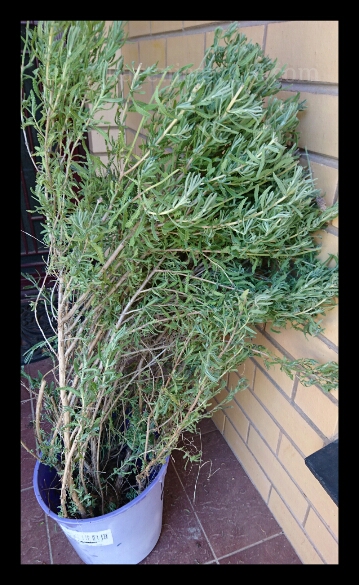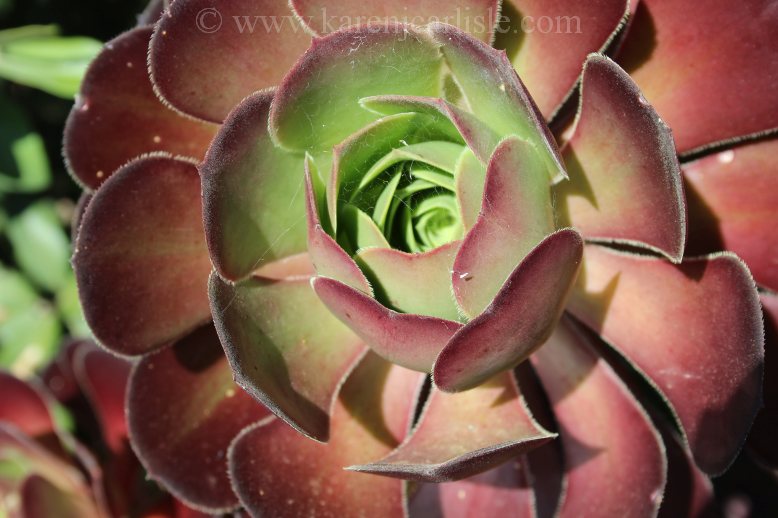 Next, I set to clearing the footpath around the house (there was only about thirty centimetres to wiggle past) and cleared out part of the overgrown 'fairy' garden, where I discovered some long lost solar Christmas lights - just in time to put up for this year.
Back yard:
I've also been hard at work in the back yard, doing a clean up for the inevitable Christmas parties. I did some more weeding, discovered some surviving strawberries, rejuvenated two potted bushes - a rose and the blueberries (replacing some of the old potting mix) - and potted a self seed tea camelia into a new home. Dearheart mowed the grass - the seed stalks stood over four foot high - and now we can access the garden beds and more of my roses.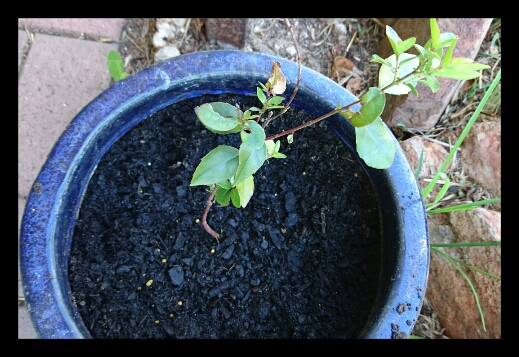 We're so fortunate to have healthy soil. I don't use chemicals if I can avoid it. Then I opt for ecologically-friendly options. Companion planting and using the natural predators helps also.
I took this photo before the grass was mown. I stand with the First Nation of Grassy Narrows in Ontario in their bid to have mercury removed from their land. You can support the youth of Grassy Narrows at Go Fund Me.  #standwithgrassy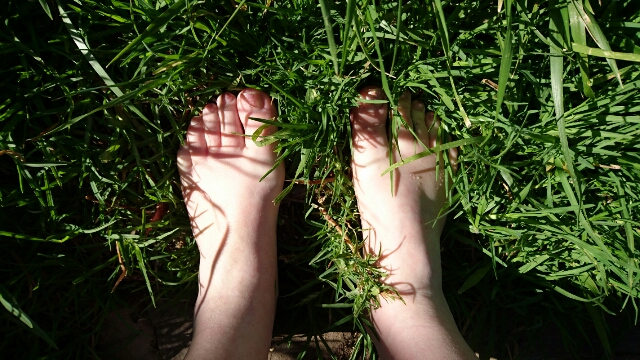 Sciencey Stuff:
*
Endorphins
are released from the pituitary gland (brain) during of strenuous exercise, emotional stress, pain, and orgasm. They aid in the relief of pain and induce feelings of pleasure or euphoria.
The Benefits of Exercise for the Clinically Depressed: https://www.ncbi.nlm.nih.gov/pmc/articles/PMC474733/
The Exercise Effect: http://www.apa.org/monitor/2011/12/exercise.aspx
Photos:©2016 Karen J Carlisle. All Rights Reserved.