When you think of early time travel stories, you'll most likely think of H. G. Wells' 1895 novel, 
The Time Machine. 
But did you know that there were many novels and short stories, written before 1895, with time travel as a central theme. Here's a list of stories you may be interested in checking out. I've added links where I could find them.
1733: Memoirs of the Twentieth Century by Samuel Madden. A guardian angel travels to 1728 with missives from late 1990s.
1781: Anno 7603 by Johan Herman Wessel. A good fairy sends people to 7603 AD where gender roles are reversed in society.
1819: Rip Van Winkle by Washington Irving. Technically Rip Van Winkle slept for 20 years, but was effectively 'transported' into the future where his wife has died, his daughter is grown up and he is forgotten.
1836: The Forebears of Kalimeros: Alexander, son of Philip of Macedon by Alexander Veltman . The protagonist travels to ancient Greece on a hippogriff. This is considered the first Russian SF work.
1843: A Christmas Carol by Charles Dickens. Scrooge is shown his past and future by three ghosts. This story was one of the inspirations for Viola's Christmas adventure.
1846: The World As It Will Be by Emile Souvestre. Involves a journey to 3000 on flying locomotive, showing a future with shades of Aldous Huxley's Brave New World. (This appears to be first story to use a machine as means of transport.)
1881: The Clock That Went Backward by Edward Page Mitchell Three men go back to the 16th century by way of a clock. (Wikipedia quotes this as first to use a time machine.)
1861: Paris before Men by Pierre Boitard A deamon takes the protagonist back in time to find  apelike creatures and dinosaurs.
1887: El anacronópete by Enrique Gaspar y Rimbau A group of adventurers travel back to 1492 Spain, Ancient China, Vesuviius and time of Noah. This story also features a machine as for of time transportation (the anacronópete of the title) -  a cast iron box powered by electricity.
1887: Looking Backward: 2000-1887 by Edward Bellamy reminiscent of Rip Van Winkle. traveller wakes 113 years later from a hypnosis-induced sleep.
1888: The Chronic Argonauts by HG wells This story is set in Welsh Village where a visitor proves to be a time traveller. The Chronic Argonauth was written six years before The Time Machine. The short story was mentioned in Tomorrow, When I Die, and was one of the inspirations for the story.
1889: Sylvie and Bruno by Lewis Carroll involving a watch determining time.
1889: A connecticut Yankee in King Arthurs Court by Mark Twain An American travels back in time to King Arthurs court, and uses his scientific knowledge to rise in the court.
1892: Golf in the year 2000  by J McCullough Another sleep-travel story - 1892 to 2000, where golf and politics are the only activities not dominated by women.
1895: Finally we get to the well-known classic - The Time Machine by HG Wells.
The initial idea of Viola's penultimate adventure,
Tomorrow, When I Die
, was sparked by two of the books on this list:
A Christmas Carol
and
The Chronic Argonauts.
 The story is set over Christmas, 1889. Viola is given a copy of
The Chronic Argonauts
by her friend, Sir Archibald Huntington-Smythe. And here's some further reading about time travel in the 19th Century:
Tomorrow is the book launch for
From the Depths
and
Tomorrow, When I Die
at the
Steampunk Festival
at National Railway Museum, Port Adelaide - scheduled for after lunch on Saturday.
Those attending will be able to buy copies of both ebooks at the special launch price of US$0.99
- just for the weekend of the Festival. If you're attending, come up to the table and mention this post to get the voucher code.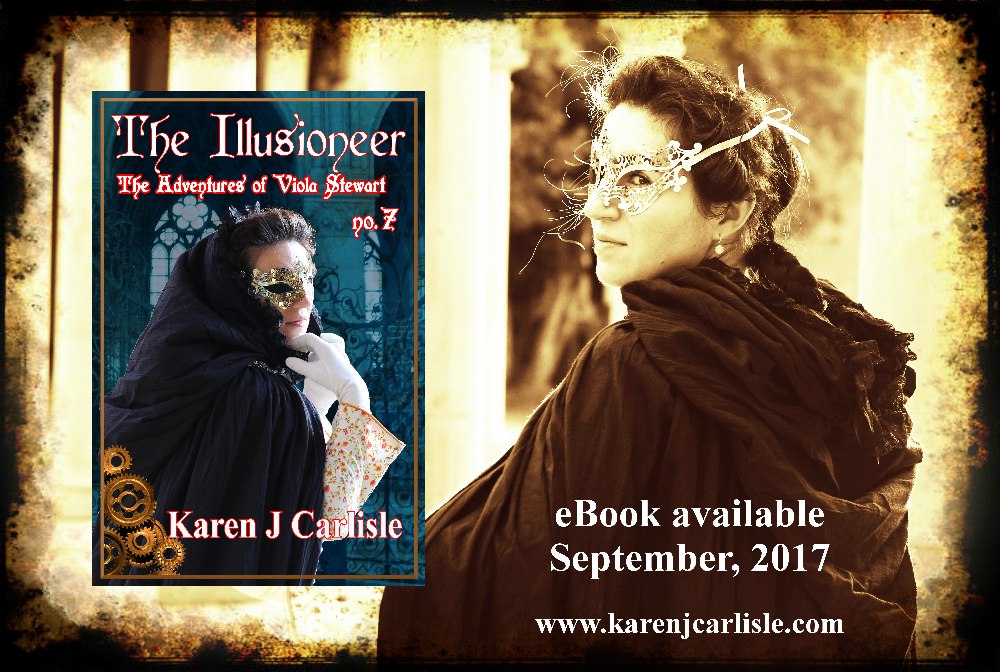 I'll also be taking
pre-orders for
the third journal (paperback)
The Illusioneer  & Other Tales
- the compilation of all three eBooks. This should be arriving late September/early October.
PRE-ORDER your own copy of JOURNAL #3 at Steampunk Festival $20 - includes postage within Australia.
Come and see me at the table. The first 50 pre-orders get a signed postcard of the paperback cover (to be revealed over the weekend).
You can also purchase some of my newest craft projects - crocheted tophats (Green:$15/ octopuses:$20)
Here's my own tophat!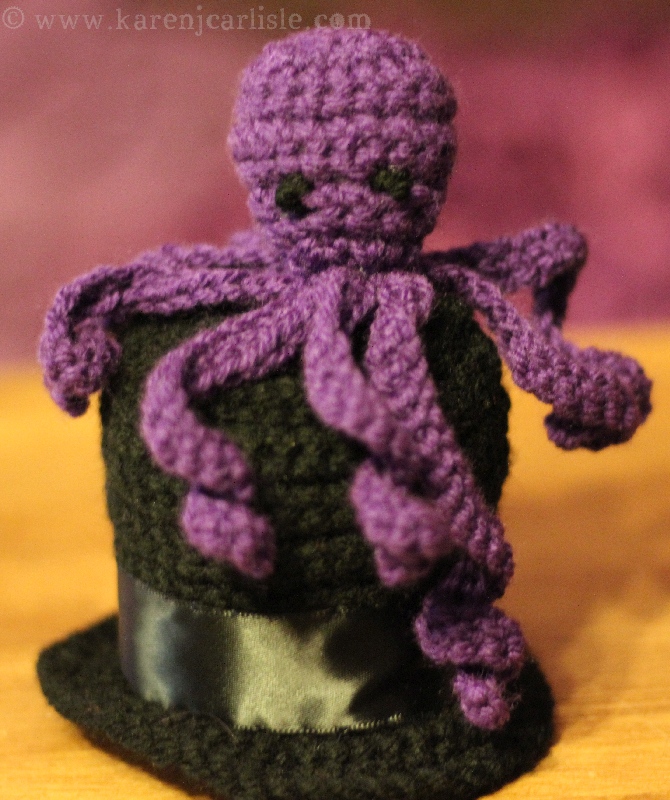 And if you are entering the costume competition, then don't forget to say hello. I've been asked to help judge the costume competitions on both days. Prizes will be awarded 2.00-2.30pm on both Saturday and Sunday. (Ask at the entry door for more details on how to enter).
Here's some costumes from previous events to inspire you: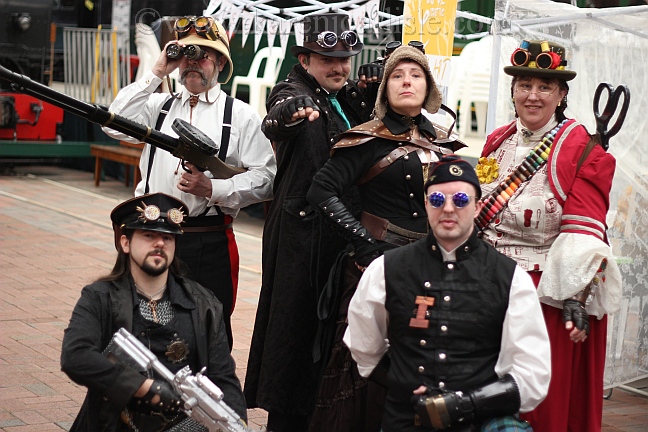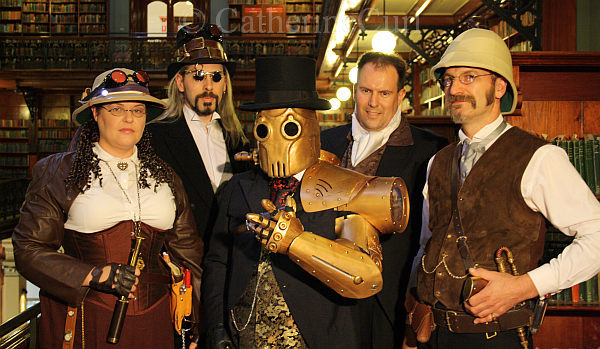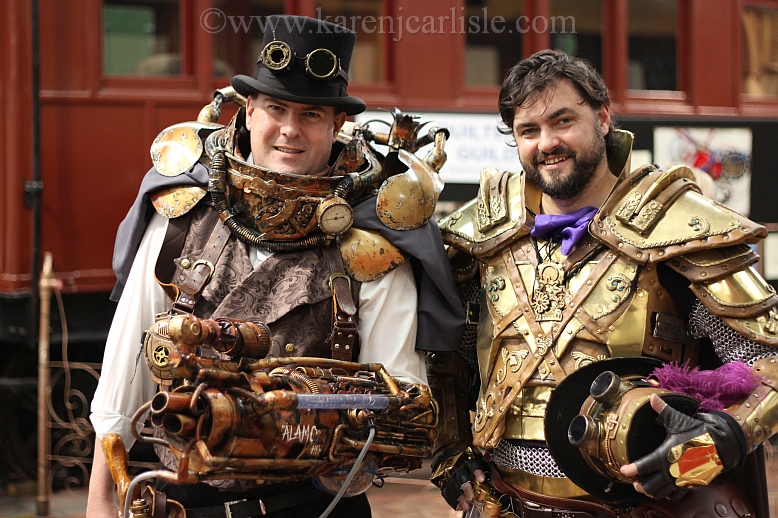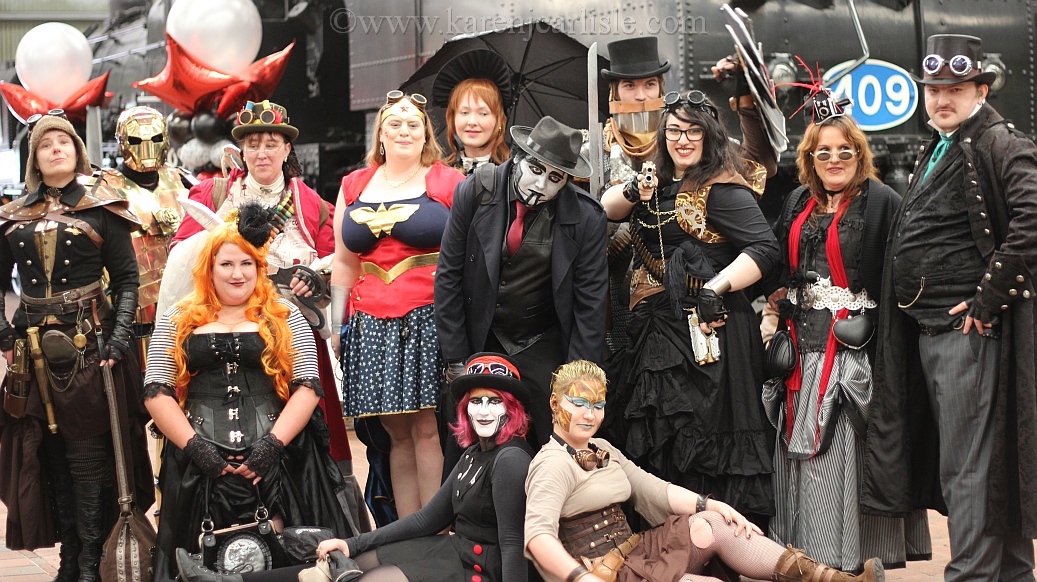 Photos (c)2017 Karen Carlisle/ Catherine Curl. All rights resereved.